Simple Job
Placement
– Smart
Management
Book and manage job advertisements and recruitment marketing
directly from the Applicant Tracking System (ATS) – with the Iventa Job Post API.
Powerful (Multi) JobPost API
Multi-Posting, E-Recruiting, and Recruitment Marketing: With the JobPost API you enable your customers to post job advertisements directly from the Applicant Tracking System to- all media channels and thus generate applicants.
The API can be integrated into any existing ATS system and provides additional real-time metrics on all job postings. Recruitment Analytics provides an easy way to control performance and management.
Reach applicants via all media channels. Simple and efficient.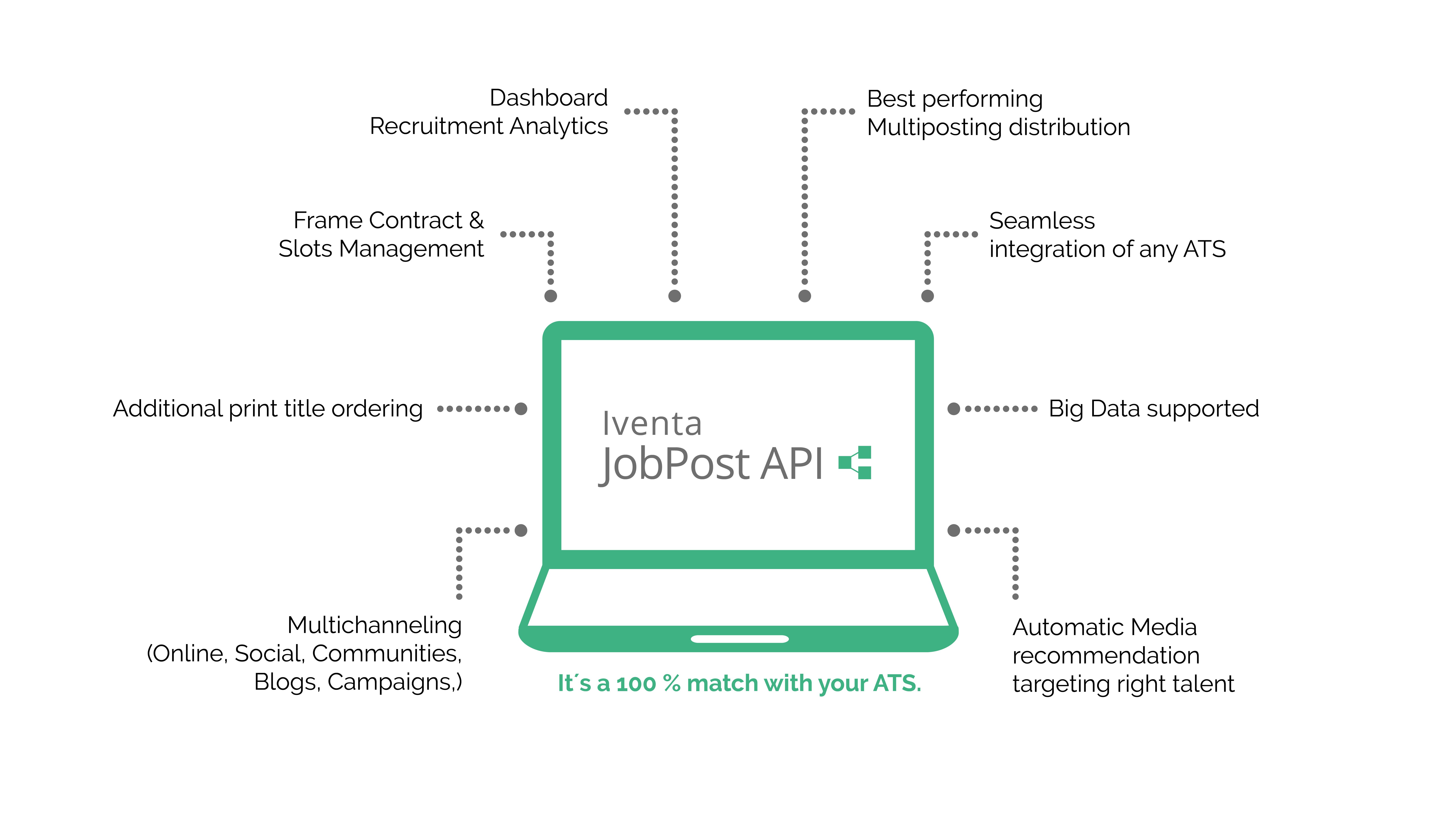 ATS Users Benefit from This – Your Customers:
Single interface, all applicant and target groups: The JobPost API knows where to reach the target groups of applicants and automatically suggests the best channels to publish job postings
Easy integration of the API into the existing ATS system
Direct placement of job advertisements and recruiting messages from the ATS system
All media types and channels available: From online, social media, job search engines, and communities to Google Jobs PLUS and print media
Performance data and Big Data help determine where job advertisements should best be published
Comprehensive reporting and analysis in real time using Recruitment Analytics
Regionally, nationally, internationally applicable
Price advantage in media purchasing
Additional wide range of services as required in the areas of media, personnel marketing, employer branding
ATS Providers Benefit from This – You:
Outsourcing of the complete media management
Extensive media portfolio
Upgrading the ATS with the innovative JobPost API as a fully integrable add-on module
Added value for new and existing ATS customers (sales, loyalty)
Participation in revenue partner models and generation of new business
Standardised and flexible API connection with the possibility of individualisation and extension
No license costs
Designed by professionals. For professionals.
Benefit from our competent team of in-house developers and many years of market experience.
With the JobPost API both you and your customers have a strong partner by your side when it comes to future talent acquisition.
It´s a 100 % match. ATS & JobPost API
Iventa Austria Personalwerbung GmbH
Seidengasse 9-11
1070 Vienna
Iventa Germany Personalwerbung GmbH
Neue Rothofstraße 13-19
60313 Frankfurt am Main
Iventa Swiss Büro Luzern c/o Gewerbe Treuhand AG
Eichwaldstraße 13, 6002 Luzern